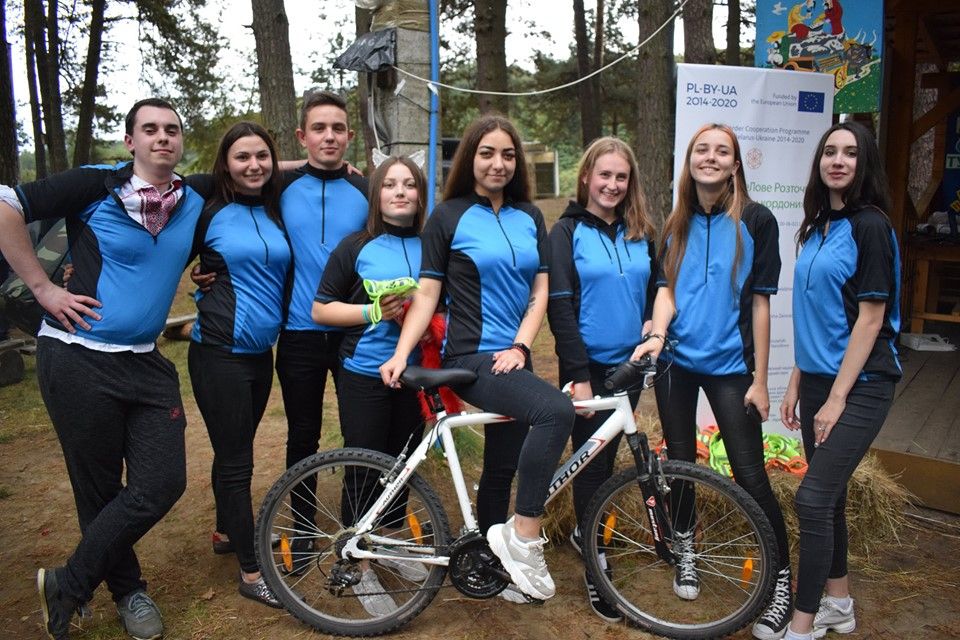 The cross-border projects are not just indicators, budgets, reports and payments. Although these are their inseparable elements, above all each project hides the specific ideas, values and dreams of people implementing it, as well as the stories of those who benefited from its implementation.
We want to bring some of them closer to you by the "Project stories" - the cycle which will present this more human (but also animal - as in the 1st episode) dimension of our selected projects. We invite you to read.
Ivanka's first bike was built by her farther out of old parts of other bikes. She painted it bright orange. Since that day she became a rightful member of village kids' gang. They would go everywhere on their bikes - to each other's place, to the lake, to the forest, to the Zolochiv Castle. A bike was a part of every kid's life, it made them feel free and empowered. Later, she had other bikes – from big and awkward "Ukraina" to an elegant city bike.
When Ivanka started her studies at Lviv University, her life changed completely. It wasn't easy to cope with the fast rhythm of the city life; she found herself far from her favorite places, from lush greenery which surrounded her in the countryside.
Then, one day she decided to get back in the saddle and started her trips to the city outskirts. She was surprised to discover so many beautiful green places, even within the city. She also took longer trips to nearby towns, a bit off the beaten track. Sometimes they were quite difficult to reach, because roads in the area are not very bicycle friendly and it was not easy to plan a trip to a new destination. She had a couple of friends who joined her during her trips.
When a friend of her told her about the training for bicycle guides taking place within the project B(L)ike Roztocze together in spite of borders (PLUARoztocze), Ivanka thought "Why not?" and enrolled. While the first day it was mostly listening about different aspects of guiding, safety, working with tourist groups, the second day they had to test a 60-km bicycle route, stopping at the most prominent landmarks such as Zhovkva, Hlynsk, Krekhiv, Fiyna, Dubrovytsya, Bryukhovychi and ended in Lviv. There was also an easier option – a 30-km route. After some hesitations she took the second one as the 60-km group looked… well, a bit fitter than herself. The easy route wasn't very easy, too. She was proud to complete this challenge and to discover new opportunities, which made it possible to combine the most important things in her life:
"For me, as an ecologist, biking lifestyle has a special meaning. A bike is not only the most eco-friendly transport, but it can bring you closer to nature. Besides, it gives you this feeling of freedom… Like you can go everywhere, wind blowing in your face, the sky above you…"
Bikes and nature were two foundation stones of the PLUARoztocze project. "We have beautiful places we wanted to show to the world, such as Roztoche, which is cross-border protected area." - says Oksana Viytyk, one of the project initiators. "We wanted to make it more accessible for visitors and promote it without causing damage to nature. Biking is an excellent way to discover this area, it is also something that can unite people from different countries and different backgrounds. It helps to achieve another project goal, which is to make local people more aware of environmental issues and promote eco-friendly lifestyle."
Indeed, people's awareness is a crucial element of any "green" project. In case of Roztoche, it is important that both local people and visitors should value and care for the environment. Active young people, like Ivanka do not only benefit from the project - they contribute into its success acting as role models, promoting particular lifestyle and attitudes.
A large part of the project is improvement of tourist infrastructure. At the present time, the works on building and upgrading of a 327 km cycle route on both sides of the border is under way. Along the route, the travellers would be able to use the cycler's service points and other facilities. Also, numerous events, such as cycling tours, workshops and educational meetings are organized to promote eco-attitudes among the visitors. Joint efforts of Polish-Ukrainian project team will result in an attractive tourist product - "together in spite of borders".
…Meanwhile, Ivanka is busy finishing her thesis for the Master's Degree in Ecology. But the certificate of a bicycle guide is already in her pocket and her head is full of ideas of future biking trips. She is looking forward to spring, when a new round of interesting biking events is going to start. And of course, she is going to take a 60-km route this time.
By the way, all bike lovers are invited to join!
Thanks to the financial support of the European Union, the project titled B(L)ike Roztocze together in spite of borders (PLUARoztocze) is being implemented within the Cross-border Cooperation Programme Poland-Belarus-Ukraine 2014-2020.