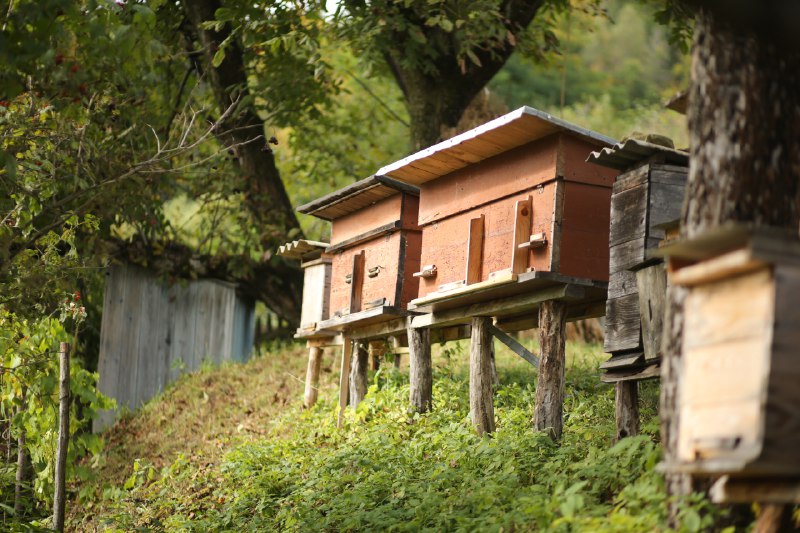 The cross-border projects are not just indicators, budgets, reports and payments. Although these are their inseparable elements, above all each project hides the specific ideas, values and dreams of people implementing it, as well as the stories of those who benefited from its implementation.
We want to bring some of them closer to you by the "Project stories" - the cycle which will present this more human (but also animal - as in the 1st episode) dimension of our selected projects. We invite you to read.

You can meet them everywhere in the Carpathians, even if you get to mountain tops. They may be invisible, but if you look closer, you will see they are everywhere where the flowers are blooming. In fact, colourful abundance of Carpathian wild flowers would disappear without them. They have been living here for many years, even before the people came. They are resilient, hard-working and good-tempered. They do much good to people but people do not always return the same that is given.
The heroes of this story are small greyish bees, called a "Carpathian bee" or a "Karpatka".
What makes them so special?
Carpathian bee can survive long periods of cold weather and is extremely productive, making the most of short periods of warm weather. It is not aggressive - some beekeepers do not even wear special protection gear to approach them. Being aboriginal species to this area, it used to dominate in the Carpathians for a long time, being a part of local life in which beekeeping played an important role. The monument to Carpathian bee erected in Vuchkove village in Zakarpattia, Ukraine, commemorates this tiny animal as an element of local heritage woven into Carpathian culture and lifestyle.
In the 20th century the situation of Carpathian bee changed. In Soviet times, in the course of agricultural experiments, it was taken as far as to Siberia and crossed with other bee species. At the same time, other bee species appeared in the Carpathians. Nowadays, different kinds of bees are available on sale and local farmers are always ready to experiment, tempted by the sellers' promises to increase productivity... Unfortunately, this resulted in the decline of pure Carpathian bee population and wide dissemination of hybrid species as well as spread of diseases, unknown before. Other threats include pollution and decline in professional education for beekeepers. Moreover, it is worth to mention, that working with bees demands patience and is not always rewarded with high profit.
Still, there are people in the Carpathians for whom beekeeping is a real passion and who are determined to save the breed of Carpathian bees andpromoting local beekeeping. They make unique, ecologically pure honey and other products such as cosmetics, medicines or candles. Some collect old items, related to beekeeping or provide services such as workshops or even "sleeping on beehives" therapy. They decided to address these challenges by initiating Carpathian Bee project, which was designed and is being implemented together with partners from Ukraine and Poland.
"No one of my family had to do anything with bees. And no farming of any kind was to become my profession – I studied law. My adventure with bees started… in the library. A book entitled Carpathian bee got into my hands by pure chance. The title spoke to me as Kosiv in the Carpathians is my native place. I was 15 then, and now I can say I have been dealing with bees more than half of my life."
Viktor Andrusiak, the Head of NGO Association of beekeepers "Carpathian Eco-apiary", does not look like a stereotypical Ukrainian beekeeper. "Nor any of my friend beekeepers do" – laughs Viktor, "we are innovative, dynamic and open to new things."
One of such "new things" is a "smart hive" – the beehive monitored and managed through a mobile application, which is one of the elements of the project.Other ideas proposed by the project are "attractive apiaries" in Kolochava and Kosiv, tourist "honey" trails, open events, blogging and, most importantly, activities for preservation of the breed.
"The project allowed us to do something, which has never been done before. Preservation of the species is technically complex, requiring comprehensive approach and joint efforts of many people in different parts of the Carpathians. Main project venues are located high in the mountains, which is ideal place for breeding as it prevents crossing with other species and is free from large-scale farming therefore from chemical contamination."
– explains Victor.
Scientific and monitoring expeditions to high-altitude apiaries of the Carpathian region helped to study the breed composition and determine the level of variability of the breed during different seasons. Also, nucleus beehives and queen rearing system have been purchased and are being distributed among local beekeepers in order to engage more people in preservation of the breed. Additionally, promotion of beekeeping and bee products as a tourist attraction on both sides of the border will stimulate micro-businesses and local communities. Carpathian beekeeping traditions are extremely interesting to explore and honey is a good souvenir to take home!
...Recently, an unusual village has appeared in Zakarpattia, Ukraine. There are charming wooden houses in traditional Carpathian style, including a mill, a school and a church. This village is inhabited by bee families, not people.
This amazing place with miniature houses, filled with the smell of honey and sounds of bees buzz quickly became popular both with tourists and local people. It is one of the two "attractive apiaries", which are ready to welcome tourist, as well as three Carpathian "honey trails". Next year, Carpathian Honey Festival will gather people interested in beekeeping and Carpathian traditional culture and all honey-lovers.
You are invited, too!

More information on the CarpathianBee project can be found here.