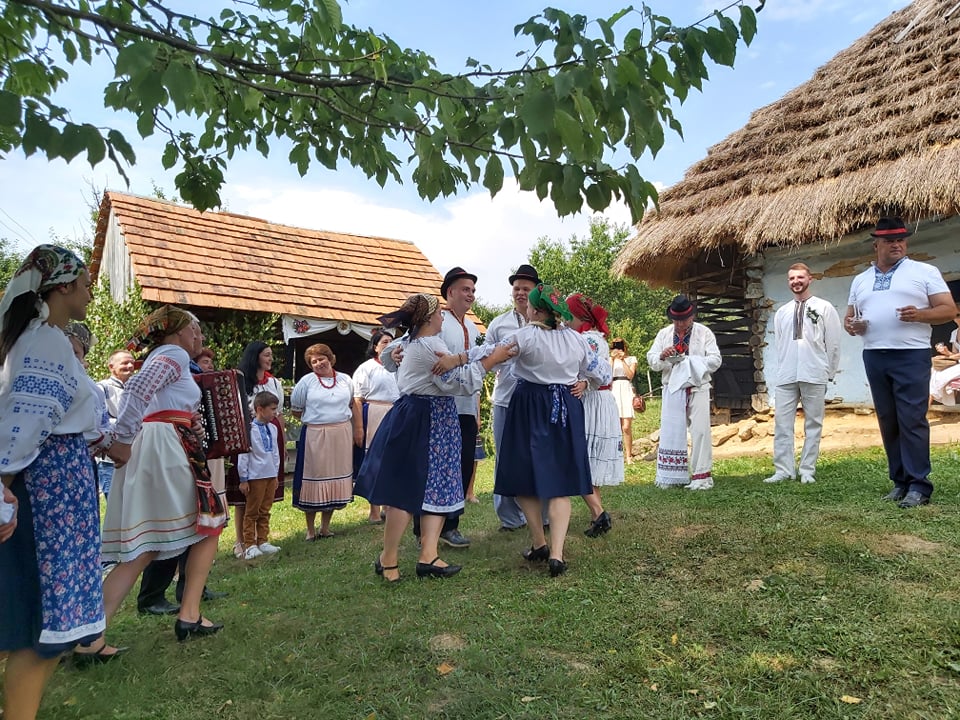 The projects implemented under the Cross-border Cooperation Programme Poland-Belarus-Ukraine 2014-2020 are not just indicators, budgets, reports and payments. Although these are inseparable elements, above all each project hides the specific ideas, values and dreams of people implementing it, as well as the stories of those who benefited from their implementation.
We want to bring some of them closer to you by the "Project stories" – the cycle which presents their more human (but also animal – as in the 1st, 13th and 14th episodes) dimension of our selected projects. We invite you to read!

The village of Zarichovo is immersed in greenery and flowers. As we drive past newer country houses an old house on a hill becomes visible. Painted in blue, with a thatched roof, it looks like a picture in a school textbook. And yet how naturally it looks against the mountainous landscape!
We did not come here just for an excursion - in a few minutes a reproduction of traditional Lemko wedding ceremony within ETHNOTOUR project will take place here. A group of ladies wearing traditional costumes - blue skirts and embroidered shirts are getting everything ready. The folk ensemble "Lemkivchanka" – the singing soul of this village – will sing at the wedding and set the tone for the whole process.
The performance begins with traditional wreath weaving, accompanied by the ritual song "Come out, wreath", which resembles an ancient prayer. When the work is completed, a merry tune is played and everyone dance in a circle. Throughout the ceremony, lyrical songs alternate with merry ones, solemn words with humorous dialogues, there are dances, treats, gifts - like during a real wedding.
It seems that not all the texts are written in the script, some come out spontaneously. There is no artificiality in the performance, the songs and rituals are not something archaic for the performers. Nowadays, local weddings are only slightly complemented by modern elements. Even if they take place in a fashionable restaurant, the young couple and guests wear modern outfits, folk songs are sure to be heard. However, few people know as many songs as "Lemkivchanka" ladies, there are dozens of them in their repertoire. Apart from the songs, they have an amazing story to share.
The story began in the 80's of the past century and it is connected with this old blue house. A local teacher, Zhanna Sukholit, decided to set up "Lemkivska Sadyba" museum here and invited local women to help her. During the work, the women sang folk songs and, impressed by their singing, Zhanna suggested creating a folk music ensemble. This was the beginning of a great cause! The singers themselves selected their repertoire and had regular rehearsals. They also made their own costumes based on old patterns. They were eager to perform at various mass events, welcomed tourist groups to the museum, and even were shot in the movie, in the wedding scenes in "Zhmeniaky"(1986) film. The ensemble has performed in many places in Ukraine and abroad, in particular, in Germany and Slovakia. Traditionally, every year on January 7, they sing old Christmas carols. The ladies also make traditional periwinkle wedding wreaths.
Nowadays, it's not very common for people to get together with the only purpose to practice singing. Moreover, these singers have no professional interest in it, they sing just for their pleasure. Or, perhaps, because singing is part of their nature, something that helps to overcome life's troubles, something that helped the Lemko ethnic group to go through the centuries of their turbulent history of wars, forced resettlement and mass labour migration.
Showing the history of this ethnic group through the prism of people's stories is one of the objectives set by the ETHNOTOUR project implemented within Poland-Belarus-Ukraine Programme. The old photographs collected for the exhibition 'About the People, for the People' can unveil such stories to us. You can see the photos of Lemko people – peasants, artisans, priests, military men and read about them. If you look closely at the photographs, you can even see some similarities with the faces of visitors to the exhibition - the residents of Perechyn and surrounding villages. This part of Transcarpathia, on the slopes of the Beskyds/Bieszczady (Zarichovo and Novoselytsia villages in Perechyn raion and Domashyn, Zagorb, Lubnya, Strychava, Stuzhytsia, Knyagynya, Zavosyno, Verkhovyna Bystra villages in Berezne raion) are traditional Lemko areas, which are characterized by distinct elements of Lemko culture, i.e. architecture, crafts (ornamentation), cuisine and, of course, unique songs. And although traditional Lemko songs are now sung all over Ukraine, it is important to realize that the origins of this culture are here, in the Lemko land. Local folk musicians and singers have strong connection with their land, have a sense of unity with their heritage, which allows genuine reproduction of traditional art, which is probably the secret of their special charm.
The original cast of the "Lemkivchanka" ensemble is depicted by the old photo from 1987. Festively dressed, smiling, they pose against the background of the "Lemko estate". They have all left this world but were replaced by new talented singers, who continue their work. We believe that thanks to such incredible people beautiful Lemko music and songs will last for long and will be sang and heard by future generations.
More about ETHNOTOUR project can be found here.